Master cheongsam-maker Hsu Rong-I talks
about the past and present of the elegant dress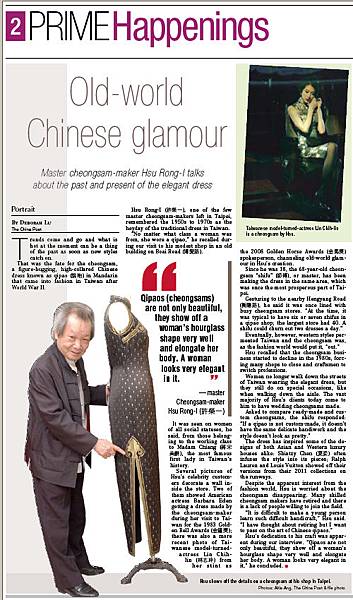 Trends come and go and what is hot at the moment can be a thing of the past as soon as new styles catch on.
That was the fate for the cheongsam, a figure-hugging, high-collared Chinese dress known as qipao (旗袍) in Mandarin that came into fashion in Taiwan after World War II.
Hsu Rong-I (許榮一), one of the few master cheongsam-makers left in Taipei, remembered the 1950s to 1970s as the heyday of the traditional dress in Taiwan."No matter what class a woman was from, she wore a qipao," he recalled during our visit to his modest shop in an old building on Boai Road (博愛路).
It was seen on women of all social statuses, he said, from those belonging to the working class to Madam Chiang (蔣宋美齡), the most famous first lady in Taiwan's history.
Several pictures of Hsu's celebrity customers decorate a wall inside the store. Two of them showed American actress Barbara Eden getting a dress made by the cheongsam-maker during her visit to Taiwan for the 1983 Golden Bell Awards (金鐘獎); there was also a more recent photo of Taiwanese model-turnedactress Lin Chihlin (林志玲) from her stint as the 2008 Golden Horse Awards (金馬獎) spokesperson, channeling old-world glamour in Hsu's creation.
Since he was 18, the 68-year-old cheongsam "shifu" (師傅), or master, has been making the dress in the same area, which was once the most prosperous part of Taipei.
Gesturing to the nearby Hengyang Road (衡陽路), he said it was once lined with busy cheongsam stores. "At the time, it was typical to have six or seven shifus in a qipao shop; the largest store had 40. A shifu could churn out two dresses a day."Eventually, however, western styles permeated Taiwan and the cheongsam was, as the fashion world would put it, "out."
Hsu recalled that the cheongsam business started to decline in the 1980s, forcing many shops to close and craftsmen to switch professions.
Women no longer walk down the streets of Taiwan wearing the elegant dress, but they still do on special occasions, like when walking down the aisle. The vast majority of Hsu's clients today come to him to have wedding cheongsams made.
Asked to compare ready-made and custom cheongsams, the shifu responded:"If a qipao is not custom-made, it doesn't have the same delicate handiwork and the style doesn't look as pretty."
The dress has inspired some of the designs of both Asian and Western luxury houses alike: Shiatzy Chen (夏姿) often infuses the style into its pieces; Ralph Lauren and Louis Vuitton showed off their versions from their 2011 collections on the runways.
Despite the apparent interest from the fashion world, Hsu is worried about the cheongsam disappearing. Many skilled cheongsam makers have retired and there is a lack of people willing to join the field.
It is difficult to make a young person learn such difficult handicraft," Hsu said. I have thought about retiring but I want to pass on the art of Chinese qipaos."
Hsu's dedication to his craft was apparent during our interview.
Qipaos are not only beautiful, they show off a woman's hourglass shape very well and elongate her body. A woman looks very elegant in it,"he concluded. ■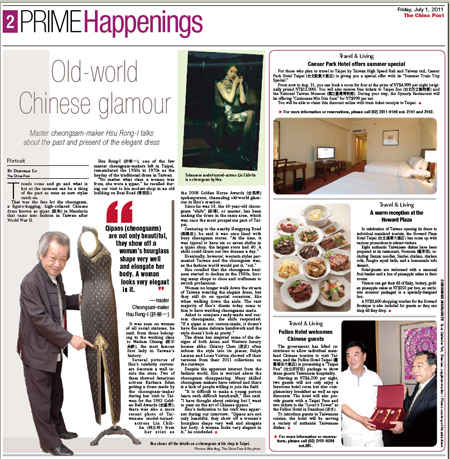 Qipaos (cheongsams) are not only beautiful, they show off a woman's hourglass shape very well and elongate her body. A woman looks very elegant in it.

Portrait
By Deborah Lu
Friday, July 1, 2011
The China Post